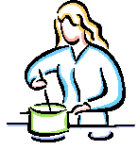 Apples in Morning Glory
The raisin filling can be varied at will, for example with cranberry or apricot jam, or even honey. From "Germany - a Culinary Tour"
Dough:
5oz Quark/cottage cheese
6 tbsp milk
6 tbsp oil
6 tbsp sugar
1 pack vanilla sugar / 1 tsp vanilla extract
pinch of salt
2 1/2 cups flour
4 tsp baking powder
Filling:
8 medium sized apples
7oz raisins (1 1/3 cups)
2-3 tbsp icing sugar
Glaze:
2 tbsp water
1 egg yolk
Optional - glaze with lemon juice and icing sugar
Press the cottage cheese through a sieve & mix with milk, oil, sugar, vanilla & salt. Mix flour and baking powder, mix half with the cheese mix, then add remaining half to obtain a smooth dough. Roll to about 4mm thick and cut into 6-8" squares.
Pare and core the apples. Mix rasins with icing sugar and fill the apple cores.
Place one apple on one square of dough and pull up the corners crosswise and firmly press together.
Mix water and yalk & brush over pastry. Bake in oven for 20-30mins at 375-395F (190-200C).