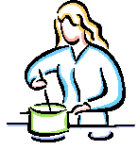 CONFIT DUCK LEG WITH FLAGEOLET BEANS
Raymond Blanc
for confit duck leg:
4 large duck legs (200g each)
30g rock salt
1 level tbsp Black peppercorns, crushed
4 Garlic cloves, peeled and finely sliced
2 Bay leaves, finely sliced
4 Sprigs thyme, picked
800g duck fat (in most supermarkets) melted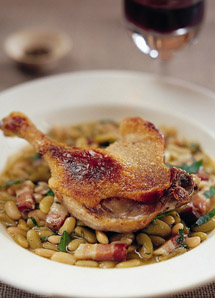 for the flageolet beans:
250g flageolet beans dried, soaked overnight (=500g)
½ onion, peeled, finely sliced
4 cloves garlic, peeled, halved
100g bacon, streaky, smoked
2 bay leaves
4 sprigs thyme
2 cloves
900g water
1 tsp black pepper, freshly ground
10 pinch Salt
2 tbs olive oil, extra virgin
10g parsley, 1 small handful roughly chopped
1 garlic clove, pureed
Lay the duck legs on a tray, flesh side upwards and distribute the rock salt, crushed pepper, garlic, thyme and bay leaves evenly over. Cling film, marinate overnight (12 hours).
Wash off the marinade and pat dry with kitchen cloth, place the duck legs, skin side down in a saucepan. Cover with the melted duck fat and bring the temperature to 85ºC, cook for 3 hours in a preheated oven (95- 100°). You know you have reached the temperature 85/90ºC, there is no bubble breaking the surface; the fat is kept just under simmering point. With a slotted spoon lift the leg out of the duck fat and reserve.
Whilst the duck legs are cooking mix the beans and all the other ingredients in a saucepan. Gently simmer the beans on the lowest heat for 50 minutes. Taste to see if they are perfectly cooked, the beans should be soft and melting not powdery. Remove the Bay leaf and thyme.
Mix in the extra virgin olive oil parley and garlic. Taste and correct the seasoning.
In a dry pan, on medium heat, crisp and colour the duck legs on the skin side 5 – 7 minutes.
To serve, generously spoon the beans and some of the cooking liquid into a soup bowl and top with a crispy duck leg, drizzle over extra virgin olive oil.