BROETCHEN - German Crusty Roll
"Broetchen" means ´small bread´. also known as Semmel or Weck in South Germany. There are varieties, such as "Zwiebelbroetchen" (onion), "Kaesebroetchen" (cheese), or Schinkenbroetchen (ham). From http://www.kitchenproject.com/german/recipes
1 pkg. yeast
1 1/4 c. lukewarm water
2 tsp. sugar
1/2 tsp. salt
2 tbsp. shortening
1 egg white, stiffly beaten
4 c. flour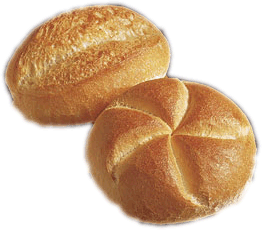 Dissolve yeast in 1/4 cup warm water. Combine yeast, 1 cup water, salt and shortening. Fold in stiffly beaten egg white. Add enough flour to make a soft dough. Let dough rise twice until doubled, punch down and let rise again. Punch down and divide into 10-12 pieces.
Form into slightly flattened balls and place on greased baking sheet.

Preheat oven to 450 degrees and bake 20 minutes. To ensure a hard crust, place pan with boiling water in bottom of oven during baking.

Serve warm with jam, or cold
ROGGENBROT

Germans like to start the day with a substantial breakfast containing variety. Apart from filter coffee, boiled egg, jam, cheese and slices of smoked sausage, a choice of bread and fresh bread rolls are laid out on the family breakfast table. This recipe is for the preparation of a sour-dough starter which is required when rye flour is used. From http://www.kitchenproject.com/german/recipes
Sour Dough (Sauerteig)
1/2 pt. warm water
7 oz. plain wheat flour
2 teaspoons sugar
1 tablespoon dried yeast
Mix the ingredients and leave to ferment in a open bowl for 5 days, Stir daily. The starter is then ready for use. For further use it can be kept covered in the refrigerator or alternatively 1 3/4 oz. of the uncooked sour-dough bread mixture can be kept for the next loaf.
Rye Bread (Roggenbrot)
3 lb 10 oz. wholemeal rye flour
10 tablespoons sour-dough starter (see above)
2 pt. lukewarm water
1/4 pt. oil
1 1/4 oz salt
1/2 oz fresh yeast
1 tsp. sugar
1/2 caraway seeds
1st day, late afternoon:Mix 1 lb 10 oz. flour with the sour dough starter and 1 3/4 pt.water. Leave overnight in an open bowl in a warm place.
2nd day, in the morning Dissolve yeast and sugar in 4 tablespoons lukewarm water.
Leave to rise for 30 minutes. Mix the rest of the flour with the salt. Add risen yeast, flour, caraway seeds and oil to the started dough.
Beat well until dough comes away from the bowl. Knead for 10 minutes.
Add a little more flour if dough is too wet. Cover with a cloth and leave to rise in a warm place for 3-4 hours.
Form into loaves and put into greased bread tins. Leave covered with a cloth in a warm place for 2-4 hrs.
Place in pre-heated oven, (425 degrees F) oven and bake for 20 minutes. Brush with water . Reduce heat to (375) degrees and bake for 60 minutes. Brush with water again. Return to the oven for another 5 minutes.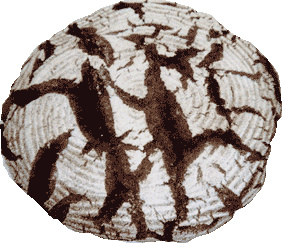 Bauernbrot - German Farmers Bread

From http://www.kitchenproject.com/german/recipes
20 1/4 fluid ounces water (luke-warm)
1 (1/4 ounce) packet active dry yeast
3 1/4 teaspoons non-iodized salt
5 1/2 cups bread flour
2 1/4 cups rye flour

Dissolve yeast in water.

Knead flour and salt into water mixture creating a smooth dough (Optimal when dough easily comes out of the mixing bowl). Let rise in a warm place for 20 min in a covered, greased bowl.

Place a baking pan in bottom of oven and preheat to 480 Deg F. Reknead the dough for a short time and form into a loaf. (or 2, a shorter baking time will result).

Place on a greased baking sheet (baking stone). Cover with damp cloth and let the dough rest until doubled in height (aprox 30-60 min) Tip: for a nicer crust brush the loaf with buttermilk, yogurt or coffee
periodically.
Do not let the surface of the dough dry out. Place the dough and with its baking sheet in the oven. Then pour some boiling water into the baking sheet that is already in the bottom of the oven. (to quickly create steam in the oven)

Lower the oven temperature to 430 Deg F. Bake the loaf until desired brownness (40-60 min).

To test for doneness, knock on bottom of loaf. If it produces a hollow sound it is ready to remove from oven and place on cooling rack until cool
Bauernbrot - German Farmers Bread
The word Bauer means Farmer in German. This dense rustic bread is made of wheat and rye flours but no yeast. the bread raises only slightly due to the soda and buttermilk.
From http://www.kitchenproject.com/german/recipes
Robin Shelden
1 1/2 tsp. soda
1 tsp. salt
1 1/2 c. whole wheat flour
1/2 c. wheat germ
1 c. white flour
1/2 c. brown sugar
2 Cups Buttermilk

Mix above dry ingredients together. Add 2 cups buttermilk and mix well. Turn into a greased casserole dish and bake at 350 degrees for 1 hour. Turn out of dish and cool on rack.