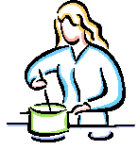 East Frisian Butter Cake
Traditionally served at wakes! From "Germany - A Culinary Tour"
1 1/2 oz compressed yeast / 3 tbsp dry active yeast
1 1/4 lb flour
1 1/4 cups milk
4 tbsp sugar
pinch of salt
1 Egg
Frosting:
5oz butter
5 oz sugar
1-2 tsp cinnamon
Mix yeast with a quarter of the flour, lukewarm milk, and a pinch of sugar, cover and set aside for aout 15 mins in a warm place. Add remaining milk, sugar, salt, flour and egg. Knead well. Rol out dough onto a baking sheet and pierce it several times with a fork.
Mix butter and sugar, add cinnamon. Sread frosting over dough and bake at 390F (200C) for 20 mins.
Tasted best served fresh.