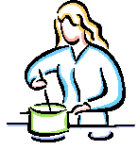 Käsekuchen ohne Boden
Cheesecake without bottom, from Carmen Bartels
for a 24 cm (9.5 in) springform
Prep time: 90 mins, actually working time: 30 mins
250 g (8.75 oz) room-warm butter or magarine
250 g (8.75 oz, 1 C) sugar
4 egg yolks
2 tbl rum (*)
1/2 untreated lemon
125 g (4.375 oz) semolina
1 pckg baking powder (**)
1 pckg vanilla pudding powder (***)
750 g (26.25 oz) low-fat Quark (****)
4 egg-whites
1 pinch salt
baking parchment
Put parchment on the bottom of the springform, grease the sides of the pan and dust it with flour. Preheat oven to 175 C (342 F).
Cream the butter very well, add sugar, rum, egg-yolks and the grated zest of the lemon. Beat until you got a pale, creamy mixture.
Mix semolina, baking powder and pudding powder. Add to mixture and mix in. Then put in the Quark and stir very well until you have an even consistancy.
Beat egg-whites together with the salt until they are absolutely stiff and carefully fold into the Quark-mix 1-2 tablespoons at a time.
Put mix into springform pan and even out the surface. Put into the hot oven (lowest rack) and bake for about 1 hour until golden yellow.
Take the pan from oven, wait until the cake has rested for some minutes and then put it top-down on a cooling rack. Remove the parchment and put it back onto a plate (now the top should be up again).
For a better cooling put the cake-plate on another plate lying top-down or put 2 pieces of wood under the cake-plate, so that the air can circulate.
Comments:
(*) I used Captain Morgan rum (74%, 148 proof) as a) I had it handy and b) I like its taste
(**) a package of baking powder is normally enough for 500 g, (1.1 pound) of flour, it contains about 2 flat teaspoons of powder.
(***) a package of vanilla pudding powder is enough for 500 ml (17.5 fl oz, 2 cups) of milk, into which you normally stir it and then cook until it thickens
(****) Quark normally is sold in 3 different versions: creamy Quark, Quark and low-fat quark. For baking only the last one is suitable as it contains the least amount of fluids.
Another very rich cake of which we could only eat a small slice