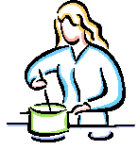 BAVARIAN BREAD DUMPLINGS (Bayrische Semmelknodel)
FROM "The German Cookbook by Mimi Sheraton" Makes 10 to 12 dumplings
Bavarian dumplings are to the Bavarians, what spatzle are to Swabians - they are the national side dish. Allegedly successfully used as ammunition when the cannonballs ran out to repel invading Hussites (a Bohemian tribe).
10 to 12 slices stale bread, or 8 stale rolls w/ crust
1 tsp salt
1 1/2 cups lukewarm milk
3 slices bacon, diced
1 small onion, chopped
1 Tbsp minced parsley
1 tsp marjoram
2 eggs
extra Breadcrumbs if needed
Cut bread or rolls, with crusts, into small pieces, put in a bowl and sprinkle with salt. Pour lukewarm milk over bread and let soak for an hour. If there is excess milk in bowl at that time, pour it off. Fry bacon in skillet with chopped onion until bacon is almost crisp and onion is soft and golden. Toss in parsley and marjoram and saute 3 or 4 minutes. Add bacon, onion and herbs to bread mixture. Mix eggs in thoroughly. If dumpling batter is to soft to form, add breadcrumbs, a tablespoon at a time, until batter is firm enough. With wet hands or two wet tablespoons, form a test dumpling. Drop into boiling salted water and simmer, partially covered for 20 minutes.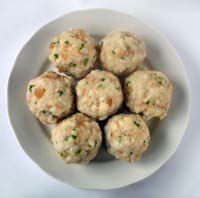 Potato Dumplings (Kartoffelknodel)
Personally, these always remind me of wallpaper paste, but they do remind me of beer gardens (so can't be all bad).
6-8 medium baking potatoes
1 1/4 C flour
2 eggs
1 t salt
1/4 t nutmeg
2 T margarine
3 slices stale bread, cut in cubes
Boil potatoes until tender. Cover and refrigerate 12-24 hours. Finely chop or mash the cooked potatoes. In a medium bowl, mix potatoes, 1 C flour, and next 3 ingredients to form a firm but light paste. If mixture is too moist add flour as needed. This will help keep the dumplings from falling apart during cooking.
Melt margarine in skillet. Add bread cubes and saute till brown. Working with floured hands, form the potato mixture into a roll about 2 1/2 inches in diameter. Cut roll into 8-10 pieces and form each into a dumpling, enclosing a few sauteed bread crumbs in the center of each.
Boil dumplings in water, being careful not to overcrowd the pot. Do not cover.
Simmer over low heat about 15 minutes; dumplings are done when they float.

from THE BEST OF GERMAN COOKING, by Edda Meyer-Berkhout.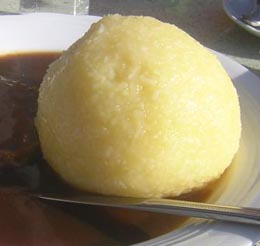 Germknoedel
"Dampfnudeln" are steamed yeast dumplings. The following recipe uses milk to steam the yeast dough which is the way my mom used to make them. They are served with a vanilla sauce and/ or applesauce or with fruit compot - fruit like plums or cherries canned in water or a light syrup.
In the western part of Germany the dumplings are steamed in salted water and served with roast or other savory dishes.
Bayrische Dampfnudeln (Bavarian steamed dumplings)
For the dough:
500g 1 lb + 1 1/2 oz flour
40 g 1 1/2 ? cakes (fresh) yeast OR 1 1/2 ? pakets active dry yeast
75 g 2 1/2 oz sugar
1/4 l 1 c + a bit warm milk
80 g 3 oz = 6 Tb (- a bit) butter
~ 2 ts vanilla extract
2 eggs
1 pinch salt
To steam:
1/4 l 1 c + a bit milk
60 g 2 oz = 4 Tb butter
60g 2 oz sugar
Prepare a yeast dough:
Sieve flour into a bowl. Make a deep dent in the center of the flour "hill". Crumb the yeast into the dent, sprinkle 2 ts sugar on top of yeast and add 4 Tb of lukewarm milk. Mix the yeast, sugar, and milk with a bit of flour from the rim of the dent into a sponge. Cover with a clean cloth and let rise at a warm place for 15 min till sponge as doubled or tripled in bulk.
Add the remaining sugar, the remaining milk, butter, eggs and salt. Knead into a dough and beat with a wooden spoon till dough pulls away from the bowl and starts to show (large) bubbles. Cover the dough again and let rise for another 15 to 25 min till at least double in bulk.
Form the dough into 6 to 7 dumplings. Put dumplings on floured board, cover and let rise till double in bulk.
To steam the dumplings: Heat the milk with the butter and sugar in a fairly large pot. Put the yeast dumplings into the milk, cover the pot tightly and cook dumplings for 30 min on low heat (below simmering). If your lid does not close tightly wrap a wet towel around pot and lid. Do NOT open pot during that time or the dumplings will fall.
Some hints: The metric measures are acurate, the conversion into American measures is somewhat rough. A cake of yeast was estimated as 25g. The original recipe calls for vanilla sugar, vanilla extract is a substitute. Use the most non-stick pot you have. The milk tends to burn very easily at the bottom and if this gets too bad the whole dish is spoiled. Heatproof glass (Pyrex) is recommended.
Serve with vanilla sauce.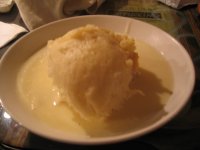 Vanilla sauce
Makes 2 cups sauce.
Prep Time: 10 minutes
Cook Time: 15 minutes
Can also be used for Strudel etc!

4 egg yolks, lightly beaten
1/2 cup sugar
2 cups milk
1 T vanilla sugar or 1 tsp vanilla extract

Beat the egg yolks and sugar (and vanilla sugar) together until the yolks are thick and pale yellow and the sugar is dissolved, about 4 minutes.
Bring the 2 cups of milk to a boil in a heavy 2-quart saucepan and then pour over the egg yolks in a thin stream, using a whisk or electric mixer to stir constantly. Pour back into pan and heat without boiling until mixture coats the back of a spoon. Remove pan from heat and stir in vanilla extract, if you are using it instead of the vanilla sugar.
Serve warm or cold.
Tip: If you have trouble with this recipe, you may want to cook the egg yolk-milk mixture in a double boiler, which heats gently. Boil 2 inches of water in the bottom of your double boiler and cook the custard over that, stirring constantly.
You may also choose to have a bowl of ice water standing by to place the saucepan in if you heat it too much. Place it in the ice water if it looks like it's curdling and stir briskly until it smooths out.