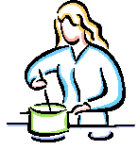 Hot Mulled Wine (Glühwein)
Gluhwein is a traditional mulled wine drink from the germanic countries of Northern Europe containing a blend of red wine, spices and fruit. An optional additonal shot of rum or brandy can give it an extra kick (mit schluss). Normally served in a pottery mug. To add ssome ritual, a sugar lump soaked in rum can be placed on a spoon balanced on the rim of the mug, the sugar lump is set on fire allowing the dissolving sugar to fall into the gluhwein. Serves 2-3 persons
1 bottle of dry red wine (750 ml)
one lemon
2 sticks of cinnamon
3 cloves
3 tablespoons of sugar
some cardamom (or ginger)
Heat the red wine in a pot (don't boil). Cut the lemon into slices and add to the wine. Then add the cinnamon, cloves, sugar and a little cardamom (to taste). Heat everything for about 5 minutes - do not boil - and let stand for about an hour. Before serving, reheat and strain. Serve in pre-warmed glasses or mugs.
Party Size
4 quarts dry red wine
1 pint brandy
1 cup sugar
6 cinnamon sticks
12 cloves, whole
1/8 tsp allspice
1/8 tsp mace
2 oranges, sliced
1 lemon, sliced:
Heat the ingredients in a heavy bottomed steel pan and bring slowly to the right temperature, but do not boil. Serve topped with a slice of orange, or a wedge of lemon. Seive the gluhwein into mugs to remove the remaining spice particles.
Austrian Gluhwein
4 - 6 Servings
6 cloves
4 -6 sugar cubes
Rum to pour over sugar
4 cups red wine (dry)
1 orange to zest
1 lemon to zest
3 cinnamon sticks
Place the wine, cloves, cinnamon sticks and zest of orange and lemon in a pan and warm. Serve the gluhwein as above. Lay a spoon across the rim of the mug and place the sugar cube on top. Spoon a little rum onto the sugar cube and light. When the sugar is all but burned let the spoon drop into the cup. The heat from the spoon will warm the gluhwein.
For a less alcoholic recipe, substitute half of the wine with orange juice or grape juice.
Spiced Apple Cider
Reducing the cider intensifies its flavor.
From bonappetit.com SERVES 12
1 gallon apple cider, preferably fresh (the darker the better)
1 tablespoon whole allspice
1 teaspoon freshly grated nutmeg
4 cloves whole cloves
3 cinnamon sticks
1 vanilla bean, split lengthwise
Brandy, Calvados (apple brandy), or bourbon (optional)
Combine cider, allspice, nutmeg, cloves, and cinnamon sticks in a large pot. Scrape in seeds from vanilla bean; add bean. Bring spiced cider just to a simmer over medium heat. Reduce heat to medium-low and cook just below a simmer until flavors meld, about 1 hour.
Strain cider through a sieve into another pot or heatproof punch bowl; discard solids in sieve. Add brandy to taste, if using. Ladle hot spiced cider into cups.

Spiced Apple Cider with Rum Whipped Cream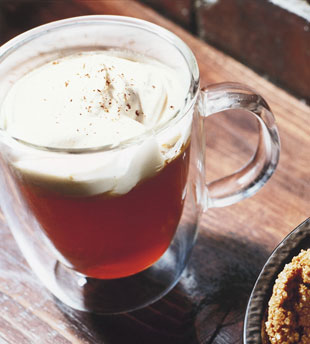 From bonappetit.com
SERVES 8
cream
1cupchilled heavy whipping cream
2 tablespoons(packed) brown sugar
2 tablespoonsdark rum
Freshly grated nutmeg
cider
12 cups (3 quarts) apple cider
40 whole cloves
10 cinnamon sticks
8 2-inch-long strips orange peel
4 2-inch-long strips lemon peel
2 teaspoons whole allspice
1/2 cup Tuaca (Italian liqueur made with brandy, vanilla essence and citrus fruits)
1/4 cup dark rum
cream
Stir all ingredients in medium bowl. Chill until ready to use, up to 1 day.
cider
Bring first 6 ingredients to boil in heavy large pot, stirring occasionally. Reduce heat to medium and simmer until mixture is reduced to 6 cups, 35 to 40 minutes. Strain cider into medium saucepan. DO AHEAD Can be made 1 day ahead. Cool, cover, and chill.
Return cider to simmer. Remove from heat. Mix in 1/2 cup Tuaca and 1/4 cup dark rum. Divide cider among 8 mugs.
Beat cream until peaks form. Spoon whipped cream atop cider and serve.

Mulled Wine
From bonappetit.com
SERVES 12
20 whole cloves
2 tangerines, clementines, or small oranges
2 750-ml bottles Merlot
3 cups fresh apple cider
8 Lady apples (optional)
2 cinnamon sticks plus 8 for garnish (garnish optional)
2 green cardamom pods, cracked
2 cups tawny Port
Press stem (pointed) end of 10 cloves into each tangerine, piercing through the skin. Place tangerines, wine, cider, Lady apples (if using), 2 cinnamon sticks, and cardamom pods in a large pot. Bring to a bare simmer over medium-low heat; cook gently for 20 minutes. DO AHEAD: Mulled wine can be made 2 hours ahead. Cover and let stand at room temperature. Rewarm gently over medium-low heat before continuing.
Stir in Port. Divide among glasses; garnish each with a cinnamon stick and a Lady apple, if desired.