Kaiserschmarrn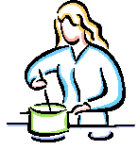 Kaiserschmarrn is a traditional Austrian / southern Germany dessert & is something like a torn omelette. Torn omelettes ("Schmarrn") already had a longstanding tradition when Austria's last "real" emperor, Franz Joseph I demanded one for dessert. His cook quickly created this simple Schmarrn from few ingredients. Inspired by the milk, he named it "Käser Schmarrn" (Cheesemaker's Schmarrn), which the old emperor misunderstood as "Kaiserschmarrn" (Emperor's Schmarrn).
"Schmarrn" is also used in colloquial German like "rubbish" in English, describing inaccurate information or stories - which may also be appropriate for this story ;o)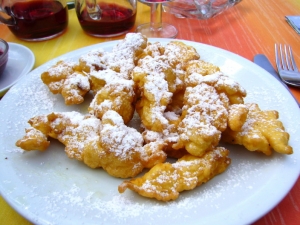 Ingredients

Serves 3
---
50g / 2oz
2 tbsp
100g / 3 1/2 oz
4 tbsp
1/8 l / 4 fl. oz

3
1 pk / 1/4 oz
30g / 1 oz
40g / 1 1/2 oz
2 tbsp
10g / 1/2 oz

sultanas
rum
plain flour
whipping cream
milk
Salt
eggs
Vanilla sugar
butter, unsalted
almond slivers
sugar
icing sugar


Vanilla Sugar
---
Use a teaspoon of vanilla extract, or prepare vanilla sugar as follows:

1 vanilla bean, whole or scraped
2 cups granulated sugar
If vanilla bean is whole, slice down side of bean with back of knife and scrape seeds into airtight container with the sugar.
Bury bean in sugar and seal tightly with lid. Let sit for 1 to 2 weeks. Use as regular, granulated sugar.
Directions
---
Soak the sultanas for at least 30 minutes in rum. Meanwhile beat the flour, cream and milk together well and add a pinch of salt. Separate the eggs, and add the egg yolks to the dough, mixing well. Allow the dough to stand for approx. 30 minutes.
Beat the egg whites with the vanilla sugar until they are stiff. Carefully fold the egg white into the dough.
Melt butter in a non-stick pan and add the almonds. Pour the dough over the almonds and even out with a spatula. Sprinkle the drained sultanas on top. Allow the dough to cook at a medium temperature for approx. 4-5 minutes until the base is golden. Turn over the dough and cook the other side until it is also golden.
Using two forks or spatulas tear (don't cut) the dough into mouth size pieces & sprinkle with sugar. Turn up the heat & gently fry the dough turning the pieces so that the sugar can caramelise. Remove from the heat, sprinkle with icing sugar & serve immediately with vanilla custard or apple sauce.