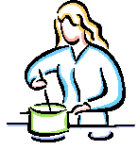 Kartoffelsalat - German potato salad
Two basic types of potato salad are made in Germany. In the north, the potatoes are held together with mayonnaise. In the southern regions of Swabia and Bavaria and in Austria, Kartoffelsalat is mixed with hot broth, oil and vinegar. This recipe is for the southern version, often called "German potato salad" in the U.S. Other German names for this salad are Erdäpfelsalat in Bavaria and Austria, Grombierasalad in Swabia and Erpeschlut in the Ruhr region. Makes 4 to 6 servings

Boiling potatoes -- 2 lb (firm salad patatoes are best)
warm bouillon -- 3/4 cup
Onion, chopped finely -- 1
Sunflower Oil -- 1/3 cup
White Wine Vinegar -- 1/4 cup
Brown or Dijon mustard -- 2 tablespoons (optional, but if used, I prefer a sweet wholegrain version)
White ground pepper, to taste
Chives or parsley, chopped (optional) -- 1 to 2 tablespoons
Optional - diced, cooked bacon. If used, substitute bacon fat for some of the oil.

Place the potatoes into a large pot and add enough cold water to cover them by an inch or two. Place over medium-high heat and bring to a boil. Reduce heat to medium, and continue to boil until the potatoes are cooked through and a sharp knife pierces them easily. Drain and set aside to cool.

When the potatoes are cool enough to handle, peel them if you like. Then cut the potatoes in half and then cut them into thick slices. Put the potatoes in a large bowl and carefelly stir in the hot broth and onions.

In a small bowl, whisk together the oil, vinegar, mustard, sugar, and pepper until smooth. Stir this vinaigrette into the potatoes, along with the chopped chives or parsley.

Adjust seasoning to taste and serve warm, at room temperature or cold. Kartoffelsalat tastes best if you let it rest for an hour or two to meld the flavors.
German Potato Salad with Dill
From bonappetit.com Serves 6
2 pounds small waxy potatoes, halved and scrubbed
¼ cup olive oil
½ onion, chopped
Kosher salt and freshly ground black pepper
¼ cup apple cider vinegar
4 scallions, sliced
2 tablespoons fresh dill, chopped
1 teaspoon caraway seeds, toasted
Cover potatoes with cold salted water, bring to a boil, and cook until tender; drain and transfer to a large bowl.
Meanwhile, heat oil in a medium skillet over medium-high heat. Add onion; season with salt and pepper. Cook, stirring often, until soft, about 5 minutes.
Remove from heat and mix in vinegar. Add to potatoes along with scallions, dill, and caraway seeds and toss, crushing potatoes slightly; season with salt and pepper.