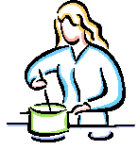 Pflaumenkuchen (German plum cake)
There are many recipes for plum cake, you can make it with a shortbread crust, with yeast, a simple sponge, you can use streusel or let the plums sink in, you can make a sheet cake or use a springform. For an alternative vegan version (no yeast, and with cardamom to give a spicy flavour) see http://www.vegalicious.org/2007/08/12/german-plum-cake-pflaumenkuchen/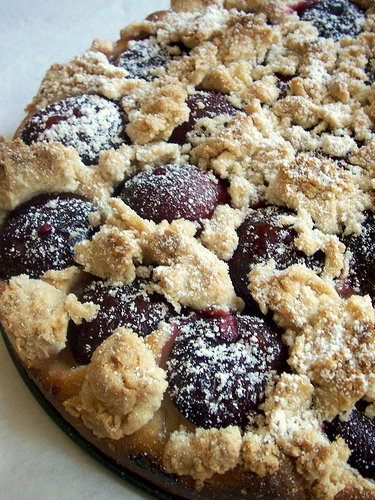 The following is a simple vegan version of a yeasted plum sheet cake called Zwetschgendatschi, from "Vegan backen: Kuchen, Torten & mehr - Vollwertige Rezepte" by Angelika Eckstein.

For the cake:
2 cups plain flour
1 t active dry yeast
2/3 cup rice or soy milk
1/4 cup sugar
2 1/2 T vegetable oil
1 pinch salt
1 T vanilla sugar (or 1 t vanilla extract)
1 lb plums (small damson-like blue plums to be athentic)
For the streusel:
3/4 cup flour
1/4 t baking powder
3 T sugar
2 1/2 T margarine
1/2 t vanilla extract or 1/2 T vanilla sugar
1/2 – 3/4 T soy milk (as needed)
Icing sugar & cinnamon (optional) to serve
Grease a 10 inch springform pan and set aside. In a bowl mix flour and yeast. Add reamining ingredients and stir well. Knead the dough for ten minutes until soft but not sticky. The texture should be like bread dough. Adjust amount of flour or water, if neccessary. Cover bowl with a damp kitchen towel and let dough rise in a warm place until doubled in size (3/4 to 1 hour).
Meanwhile wash and halve the plums and prepare the streusel topping. In a bowl mix flour, baking powder, and sugar. Add margarine and vanilla. Use your hands to mix until mixture starts to form into crumbs. Add soy milk if too dry.
Preheat oven to 400°F. Transfer yeast dough to a floured working surface and roll into a circle. It should have the size of your pan. Transfer to pan. Carefully press plum halves into the dough. Sprinke streusel topping over the plums:

Transfer to oven and bake for 30-35 minutes until golden brown. Let cool for five minutes, transfer to a rack and sprinkle with confectioner's sugar. Serve warm or cool. Serve with whipped cream.
Alternative (non-vegan) recipe
I recommed to halve this, note that there is no streusel topping with this one
From "Germany - A culinary tour", by Wolfgang W Reichert:

3 1/2 cups flour
3/4 cup of lukewarm milk
1 1/2 oz compressed yeast, or 3 tbsp active dry yeast
7oz soft butter
2 eggs
1/2 cup sugar
1 tsp salt

Mix half flour with milk and yeast, allow to rise then add remaining flour and remaining ingredients. Allow to rise again and roll out onto a floured board. Pit the plums using a pitter, and cut lengthwise to produce a one piece open plum, place skin side down on the dough and overlap like scales/roof tiles to completely cover the dough. Other fruit can also be used.