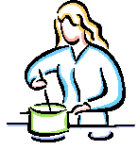 Pretzels
History gives the nod to the invention of the pretzel by a Monk who resided in either Northern Italy or Southern France. But it sure didn't take long to make it's way across the Alps to Bavaria where the Pretzel (or Brezl) was perfected, in my opinion, by the Germans. All over Bavaria one can find delicious pretzels. Especially large at Oktoberfest, they are slightly crunchy on the outside and soft in the middle. All around Munich you will see people enjoying a mid-morning breakfast of these wonderful Brez'n accompanied by a tall Weissbier (Wheat Bier) and Weisswurst (white sausages) with sweet mustard. You have to try it!
The recipe below is quite popular with my friends and is the best pretzel recipe I have come across. Enjoy!
http://www.theoktoberfest.com/HTML/pretzel/index.html

1 Package active dry yeast (2 tsp)
Warm water (1/8 Cup-105°f/30ml-40°c)
Warm water (1 1/3 Cup/315ml)
Brown sugar (1/3 Cup/80 grams)
Flour (4 1/2 Cups/520 grams)
Baking Soda
Pot of water
Dissolve yeast in 1/8-cup warm water. Stir in 1 1/3 cups warm water, 1/3-cup brown sugar and flour. Knead dough until smooth and elastic. You can let the dough rise for a half hour or so but it is not required.
Heat oven to 475°f / 245°c. In a saucepan, measure 2 tablespoons baking soda to each cup of water. Put enough water to fill the saucepan at least 3 inches high. Bring soda and water mixture to a light boil and set heat to simmer. Make sure the baking soda is well disolved.
Tear off some dough and roll a long thick pencil shape with your hands. Pick up both ends, cross to form rabbit ears and then twist the ends and pull them back to the rest of the loop. Place aside on lightly floured surface and let rise a few minutes.
Place pretzels one at a time in water/baking soda mixture for 10 seconds on each side or until the pretzel dough is light yellow in color. Remove the pretzel from boiling water and place onto a salted a cookie sheet. (This step is optional, but gives a chewier crust)
Brush with egg. Salt the top of pretzels with course ground sea salt. Place cookie sheet with pretzels into the oven for 8 to 10 minutes or until pretzel is golden brown. Enjoy while warm.
Notes: Do not refrigerate this dough, it will become unworkable. Prezels should be about 6" in diameter.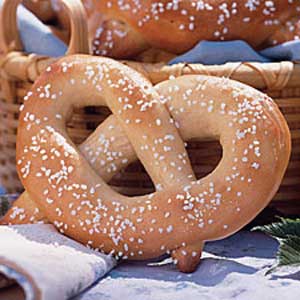 Pretzel
From: gourmettraveller.com.au

10 gm (1½ sachets) dried yeast
2 tsp caster sugar
635 gm (4¼ cups) bread flour
40 gm softened butter
50 gm (¼ cup) bicarbonate of soda
1 egg yolk, for brushing
For scattering:
sea salt flakesg

Combine yeast, sugar, 2 tsp fine sea salt and 60ml warm water in the bowl of an electric mixer fitted with a dough hook. Cover and set aside in a warm place until starting to foam (5-7 minutes). Add flour and 250ml warm water and knead until smooth (5-6 minutes). Add butter a little at a time, mixing continuously until incorporated and dough is very smooth (3-4 minutes). Place in a lightly oiled bowl, cover and set aside to rest in a warm place until doubled in size (1-1½ hours).

Knock back dough and divide into 6 even pieces. Roll each piece on a work surface to 45cm long so it tapers at the ends and is thicker in the middle (wet hands slightly to assist with rolling). Bring ends inwards and cross over once, then twist once more, then fold back and press ends onto the thicker side to create the pretzel shape. Place on a tray lined with baking paper.

Preheat oven to 200C. Bring 5 litres water to the simmer in a large saucepan over medium heat. Add bicarbonate of soda, stir to combine, then carefully add pretzels one at a time and blanch, turning once, until floating and slightly puffed (30 seconds). Remove with a slotted spoon and place on trays lined with baking paper. Brush with egg yolk, scatter with salt flakes and bake, swapping trays halfway through cooking, until golden brown (15-20 minutes). Serve warm.