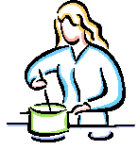 Gedunstetes Rotkraut or Gedunsteter Rotkohl
Stewed red cabbage
Serves 4
http://www.sallybernstein.com/food/cuisines/germany.htm
Cabbage (which on the German produce market is available either red or green) and Sauerkraut are absolutely star ingredients in typical German cuisine. Red cabbage has a somewhat sweeter taste than the green variety. It makes an interesting color contrast with a main course that is pale in color, such as herbed pork cutlets.
1 small whole (about 1 1/2 pound) red cabbage, trimmed, cored, rinsed and sliced
1 small onion (about 2 oz.) trimmed, peeled, sliced or chopped
3 Tablespoons vegetable oil
salt (to taste)
freshly ground white pepper (to taste)
1/3 cup broth
2/3 cup white wine
In a covered medium-size non-stick stir fry pan, heat the oil over medium heat and saute the onions until golden brown and translucent. Add the cabbage, season with salt and pepper to taste (both optional). Stir cabbage to coat everything with oil. Reduce the heat to medium, add broth and let simmer covered until cabbage has absorbed the liquid and has softened (about 10 minutes). Occasionally stir to prevent the cabbage from sticking or burning. Add wine, stir, cover again, and cook for an additional 10 minutes. If necessary, add more wine and stir occasionally until the cabbage has reached your desired doneness (the cabbage should have lost all its crunchiness).
Note: You may follow the same procedure with green cabbage and with sauerkraut. If you use sauerkraut, rinse it in abundant water and drain it before using it as instructed above.