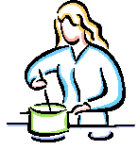 Jagerschnitzel
Recipe by: DSPIRAL73
Serves: 4
5 mins Prep, 25 mins Cook

100g breadcrumbs
1 tablespoon flour
salt and pepper to taste
2 tablespoons vegetable oil
4 pork escalopes or loin steaks, pounded thin
1 egg, beaten
1 medium onion, diced
1/2 (300g) tin chopped mushrooms
350ml water
1 beef stock cube
1 tablespoon cornflour
125ml soured cream

In a shallow dish, mix together the breadcrumbs and flour. Season with salt and pepper. Place the egg in a separate dish.
Heat oil in a large frying pan over medium-high heat. Dip pork in egg, then coat with the breadcrumb mixture. (Alternatively, dip in flour, then egg, then breadcrumbs). Fry in the hot oil until browned on both sides and cooked through, about 5 minutes per side.
Remove the pork to a platter and keep warm. Add onion and mushrooms to the pan and cook until lightly browned. Pour in water and dissolve the stock cube. Simmer for about 20 minutes. Stir together the cornflour and soured cream; stir into the pan. Cook over low heat until thickened but do not boil. Spoon over the pork and serve immediately.
For Wiener schnitzel use veal and omit the mushroom sauce.
Veal schnitzels with burnt caper butter
From: gourmettraveller.com.au
SERVES 4

75 gm (½ cup) plain flour
3 eggs, whisked
6 soft white bread slices, processed to fine breadcrumbs
8 veal leg schnitzels (700gm)
120 ml (½ cup) olive oil
200 gm butter
¼ cup salted capers, rinsed
2 tbsp rosemary
2 tbsp oregano
To serve: steamed or boiled baby potatoes or baby beans, and lemon wedges

Preheat oven to 120C. Place flour, eggs and breadcrumbs in separate bowls and season the breadcrumbs well. Dip schnitzels into flour, shaking off excess, then dip into eggwash, then breadcrumbs, patting them gently onto the veal.

Heat 2 tbsp oil and 20gm butter in a large frying pan over medium-high heat and cook schnitzels in batches, turning occasionally, until golden and just cooked through (4-6 minutes). Wipe pan clean and add more oil and butter after each batch. Transfer cooked schnitzels to an oven tray lined with paper towels and keep warm in oven.

Wipe pan clean, add remaining butter and cook until foamy and nut-brown (2-4 minutes), then add capers and herbs and swirl pan (1 minute) until capers are just crisp.

Serve schnitzels hot with burnt butter sauce spooned over, and with lemon wedges and vegetables to the side.