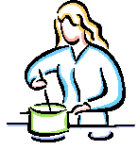 Easy German Spätzle
From "Germany, a culinary tour" by Wolfgng W Reichert.
These pasta-like dumplings are cooked quickly in boiling water, they can be frozen after cooking. For added calorific value, kasespatzle are baked in the oven with grated Gruyere or Emmentaler cheese & onion. A common dish at fests is to fry spatzle mixed with ham and sauerkraut.... yummm.... Alternatively, make the potato version (see below)
1 2/3 cups flour
3 eggs
1 tsp salt
5 fl oz water (as needed)
for topping:
1 tsp butter
i tbsp dried breadcrumbs
Add flour to eggs, salt and lukewarm water to make a smooth tough dough. Spread portions of dough on a wooden board and scrape slivers into boiling water (or use a spatzle press). Remove the dough as soon as it rises to the surface & drain. For the topping, fry the breadcrumbs in the utter and sprinkle over spatzle.
For a step by step process, see http://cook.dannemann.org.uk/sidedishes/spaetzle/
Schupfnudeln
Potato noodles with sauerkraut
http://www.letscookgerman.com/dishes/potato-noodles-with-sauerkraut-schupfnudeln.html
For 4 Persons you need:
17,6 oz. (500 g) potatoes
17,6 oz. (500 g) sauerkraut
5,3 oz. (150 g) flour
1 egg
5 tablespoons cooking oil
3,5 – 5 oz. (100 – 150 g) diced bacon
a teaspoon cumin
- Boil the potatoes and peel them.
- Mash the potaotes and mix them with the flour, the egg and the cooking oil.
- Cut small pieces from this and roll them between the hands into noodles which are as thick as a little finger and about 2 inches (5 cm) long
- Put the noodles into boiling water and cook them until they come to the surface
- Fry the diced bacon and add the noodles
- When the noodles turn golden add the sauerkraut and spice this with cumin, salt and pepper

This is a classical Swabian cooking recipe.