Speculaas Biscuits

Bake these spiced Christmas biscuits as edible tree decorations, homemade gifts, or for the day itself. From The Hairy Bikers

100g/3½oz plain flour
1 tsp cinnamon
½ tsp ground ginger
½ tsp freshly grated nutmeg
½ tsp baking powder
½ tsp salt
50g/2oz soft brown muscavado sugar
1 tbsp whole milk
75g/2½oz butter
2 tbsp candied peel, finely chopped
flaked almonds, to garnish (optional)


Preheat the oven to 180C/350F/Gas 4. Line a baking tray with greaseproof paper.
In a bowl, mix together the flour, cinnamon, ground ginger, nutmeg, baking powder, salt, muscavado sugar, milk, butter and candied peel until well combined.
Using your hands, bring the mixture together as a dough.
Turn the dough out onto a lightly floured work surface and roll out to a 0.5cm/¼in thickness.
Using a cookie cutter, cut out shapes or circles from the dough and place them onto the lined baking tray. Decorate the tops of the biscuits with flaked almonds, if using.
Transfer the biscuits to the oven and bake for 15-18 minutes, or until golden-brown. Set aside to cool on a wire rack, then serve.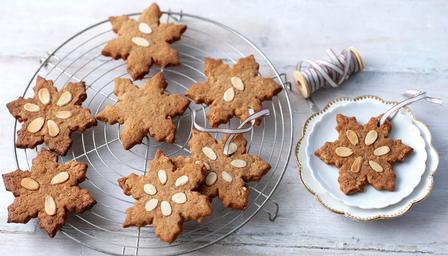 Simple Homemade Speculoos
500gr flour
375gr brown sugar
250gr butter
½ tbsp cinnamon
1 tbsp spices (ginger, nutmeg etc)
2 eggs
100gr almonds (powder)
Mix all the ingredients together and leave the mixture in a cold place till the next day.
Roll out the dough. Cut it into shapes. Place all on a cooking tray. Cook for 15min at low heat.
SPECULOOS
From http://doriegreenspan.com/2010/08/well-according-to-amazon-around.html
Makes about 70 cookies

1 2/3 cups all-purpose flour
1/4 teaspoon salt
1/4 teaspoon baking soda
2 1/2 teaspoons cinnamon
1/4 teaspoon ground ginger
1/8 teaspoon ground cloves
7 tablespoons unsalted butter, at room temperature
1/2 cup sugar
1/2 (packed) cup light brown sugar
1 large egg (room temp)

Whisk the flour, salt, baking soda, and spices together in a bowl.

Working in the bowl of a stand mixer fitted with the paddle attachment or in a bowl with a hand mixer, beat the butter at medium speed until creamy. Add the sugars and beat until well blended, about 2 minutes. ADD THE EGG AND CONTINUE TO BEAT UNTIL IT, TOO, IS BLENDED INTO THE BUTTER AND SUGARS. With the mixer on the lowest speed, add the dry ingredients in 3 additions, mixing only until the flour disappears into the soft dough. You may have some flour at the bottom of the bowl, or the dough may not be entirely smooth, but that's normal. Using your hands (always my first choice) or a spatula, reach into the bowl and knead or stir the dough 2 or 3 times, just enough to eliminate any dry spots.

Divide the dough in half. (The dough is very soft, even after you refrigerate it for several hours, so if your kitchen is hot, you might want to divide the dough into thirds – that way it won't take you as long to cut out the cookies and the dough won't soften as much.) Working with 1 piece of dough at a time, roll the dough between two sheets of wax paper or plastic wrap until you have a circle that's a scant ¼ inch thick. As you're rolling, turn the dough over a couple of times and pull away the paper or plastic, so you don't end up rolling creases into the dough. Put the rolled-out rounds of dough on a tray or cutting board and refrigerate for at least 3 hours. (The dough can be refrigerated for up to 3 days or frozne, well wrapped, for up to 2 months.)

When you're ready to bake, center a rack in the oven and preheat the oven to 350 degrees F. Have a baking sheet lined with a silicone baking mat or parchment paper.

Choose a cookie cutter – I like to use a scalloped cutter that's 1 1/4-inches in diameter – and remove 1 circle of dough from the refrigerator. Peel off the top piece of wax paper or plastic and cut out as many cookies as you can from the dough, carefully lifting the cutouts onto the lined baking sheet. Collect the scraps and set them aside to combine with the scraps from the second piece of dough.

Bake the cookies for 8 to 10 minutes, or until they are lightly golden and just slightly brown around the edges. Allow the cookies to rest on the baking sheet for a couple of minutes before transferring them to a cooling rack to cool.

Repeat with the second round of dough, making certain the baking sheet is cool before you put the cutouts on it. To use the scraps, press them together, roll them into a circle, and chill them before cutting and baking.
Serving: The cookies are just right with coffee, made for espresso and tea and really good nibbled as a snack.
Storing: The dough can be wrapped airtight and kept in the refrigerator for up to 3 days or in the freezer for up to 2 months. Kept in an airtight container, the cookies will be fine for a week or more.
Notes
Don't over-beat the dough. If you handle the dough too much, the flour starts to produce gluten, which is great for yeast baking, but not so great for pastry – it makes the biscuits tough – so just mix until the flour is combined.
The dough will be really soft and hard to manage, let it rest in the fridge for at least 3 hours / overnight, or cut the biscuits, without lifting them, then put the dough in the freezer for about 10 minutes.
Speculaas
There are two types of Speculaas, the thin and crispy ones that we buy and the more cake-like Speculaas as given here. Source: Pagrach-Chandra, Gaitri. 'Windmills In My Oven'. Prospect Books. Great Britain. 2002.
Makes about 3 1/2 dozen cookies.
1 1/2 cups (195 grams) all-purpose flour
1/2 cup (45 grams) almond flour/meal
1 teaspoon baking powder
1 teaspoon ground cinnamon
1/4 teaspoon ground ginger
1/4 teaspoon ground nutmeg
1/4 teaspoon ground cloves
1/4 teaspoon salt
1/2 cup (113 grams) unsalted butter, room temperature
3/4 cup (160 grams) firmly packed light brown sugar
1 large egg
Finely grated rind of 1 large lemon (outer yellow skin of lemon)
To Garnish: 1 cup (80 grams) sliced or shaved almonds

In a separate bowl, whisk together the flour, almond flour, baking powder, spices, and salt.
In the bowl of your electric mixer (or with a hand mixer), beat the butter and sugar until light and fluffy. Beat in the egg and lemon zest until well combined. Add the flour mixture and beat until combined. Flatten the dough into a round, wrap it in plastic wrap, and refrigerate for at least an hour, or overnight.
Preheat the oven to 350 degrees F (177 degrees C) and place the rack in the middle of the oven. Line two baking sheets with parchment paper.
Remove the chilled dough from the refrigerator and form into 1 inch (2.5 cm) balls. Place the balls of dough on the prepared cookie sheet, spacing about 2 inches (5 cm) apart. Then, using the bottom of a glass dipped in sugar, flatten each ball of dough to about 1/4 inch thick (can also use a cookie stamp). Sprinkle each cookie with the shaved almonds. Bake for about 10 - 12 minutes, or until lightly browned around the edges. Remove from oven and transfer to a wire rack to cool completely.
Speculoos Buttons
From http://www.bonappetit.com/recipe/speculoos-buttons
Makes about 90
Cookies
2 cups all-purpose flour
1 tablespoon ground cinnamon
3/4 teaspoon ground ginger
1/2 teaspoon fine sea salt
1/2 teaspoon freshly grated nutmeg
1/8 teaspoon ground cloves
1/2 cup (1 stick) unsalted butter, room temperature
1/2 cup (packed) light brown sugar
1/4 cup sugar
2 tablespoons mild-flavored (light) molasses
1 large egg, room temperature
1 teaspoon vanilla extract
1 large egg white
Sanding or other decorative sugar
Glaze
2 cups powdered sugar, sifted
Sprinkles, colored sanding sugar, or dragées (optional)
Cookies
Whisk first 6 ingredients in a medium bowl; set aside. Using an electric mixer at medium speed, beat butter in a medium bowl until smooth, about 2 minutes. Add both sugars and molasses; continue to beat until mixture is smooth and creamy, about 3 minutes. Beat in egg and vanilla; mix for 2 minutes. Reduce speed to low; add dry ingredients and mix to blend well.
Scrape dough from bowl and divide into thirds. Using your palms, roll each piece of dough into an 8-inch log. Wrap logs tightly in plastic or parchment paper and freeze for at least 3 hours. (For neater edges, remove logs from freezer after 1 hour and roll on counter.) DO AHEAD: Dough can be made up to 2 months ahead. Keep frozen.
Arrange racks in top and bottom thirds of oven; preheat to 375°. Line 3 baking sheets with parchment paper or silicone baking mats.
Whisk egg white in a small bowl to loosen; lightly brush all over 1 log. Sprinkle with (or roll in) sanding sugar. Using a long, slender knife, slice off a sliver of dough from each end of log to make ends flat. Cut log into 1/4 inch-thick rounds. Transfer to 1 baking sheet, spacing 1/2 inch apart; place in freezer while you cut the next log. (The cookies hold their shape better if you bake when dough is cold.) Repeat with remaining dough.
Bake 2 sheets of cookies, rotating the sheets from top to bottom and front to back after 6 minutes, until tops are golden brown and centers are almost firm, 11-13 minutes. Transfer cookies to wire racks and let cool. Repeat with third sheet of cookies. DO AHEAD: Cookies can be baked 2 days ahead. Store airtight at room temperature.
Glaze
Mix powdered sugar and 7 teaspoons cold water in a large mixing bowl (glaze will be very thick). Spoon about 1/2 teaspoons glaze onto each button (alternatively, fill a resealable plastic bag with glaze and cut a small hole in 1 corner; pipe glaze in an even circle around edges of cookies, then fill). Decorate with sprinkles, colored sugar, or dragées, if desired. Let stand on rack at room temperature for at least 30 minutes for glaze to set.
DO AHEAD: Cookies can be made 5 days ahead. Store airtight at room temperature.