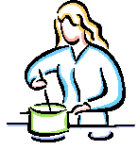 Springerle
Recipe by: Rosemarie Magee
Yield: 10 dozen
45 mins Prep - 15 mins Cook
This is an old German recipe for aniseed flavoured biscuits which belonged to my mother-in-law. I've been baking these for the years at Christmas! Look for a springerle rolling pin in antique or specialty shops.

4 eggs
30g (1 oz) butter
1 dessertspoon baking powder
1/4 teaspoon salt
400g (14 oz) caster sugar
500g (1 1/8 lb) plain flour
4 tablespoons anise seed

Beat eggs in large mixing bowl until very light. Add sugar and butter. Cream together until light and fluffy.
Sieve flour, baking powder and salt. Add dry ingredients and combine.
Knead dough until smooth; add more flour to get a smooth dough if necessary. Cover dough and allow to chill in refrigerator for at least 2 hours.
Roll onto slightly floured board to 1cm (1/4 in) thickness. Then roll again with springerle roller to make designs. Cut at border. Sprinkle anise seed on clean tea towel and place biscuits on it. Allow to stand overnight (don't cover) to dry. Bake 12 to 15 minutes at 160 C / Gas mark 3.
Cool completely. Store in tight container. The longer they sit, the more anise flavour comes through.
Note: Springerle is an embossed biscuit from Baden-Württemberg, Germany. A mould or rolling pin is used to emboss designs on rolled dough. The name means 'little knights' .