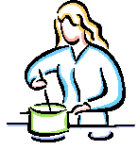 Onion Tart
Serves 6 to 8

For the dough:
200g (1 1/3 cup) all purpose flour,
100g (1/2 cup) margarine,
1 tablespoon vegetable oil,
1 dl (1/4 cup) cold water, pinch of salt.
For the filling:
500g (1 lb.) onions,
60g (2 oz/4 tablespoons) butter,
20cl (7 fl oz) milk,
20cl (7 fl oz) cream,
50g (1/3 cup) flour,
2 egg yolks,
salt, pepper and nutmeg.
1. Prepare the pastry dough: In a large bowl blend with your fingers the flour, margarine, vegetable shortening and salt until mixture resembles fine bread crumbs. Add gradually the cold water, mixing until a crumbly dough begin to form, but do not overwork the dough. If the dough is crumbly add more water. If it is wet and sticky, sprinkle over a little more flour. Form the dough into a ball. Dust the dough with flour and chill it, wrapped in wax paper, for 1 hour.
2. Preheat the oven to 350 degrees F (180 C).
3. Peel and slice very thinly the onions. Melt the butter in a skillet and fry them over moderately low heat until they are very soft but not colored. Let it cool down.
4. On a lightly floured board, roll out the dough into a circle. Place the dough in a 9-inch pie dish that has been buttered and line the plate with it. Prick the bottom of the pastry shell all over with a fork and chill for 10 mn before baking.
5. In a bowl, combine the flour, egg yolks, cream and milk. Add nutmeg and season with salt and pepper. Fill the pastry shell with the reserved onions, pour the mixture over and bake the tart in the oven for 30 minutes, or until it is lightly browned.
6. Remove the tart from the pan and let it cool on a wire rack for 5 minutes.
Swiss Onion Tart
From: Saveur
SERVES 8–10

FOR THE CRUST:
1½ cups flour
½ tsp. baking powder
¼ tsp. kosher salt
8 tbsp. unsalted butter, chilled and cubed
FOR THE FILLING:
3 oz. speck or bacon, finely chopped
3 tbsp. unsalted butter
1½ lbs. white onions (about 3), finely chopped
Kosher salt to taste
½ cup milk
½ cup heavy cream
3 eggs
3 oz. grated Gruyère or Swiss cheese
Freshly ground black pepper and freshly grated nutmeg

1. Make the crust: Pulse flour, baking powder, and salt in a food processor to combine. Add butter and pulse until pea-size pieces form. Add ¼ cup ice-cold water; pulse briefly. Transfer dough to a floured work surface; form into a disk. Wrap in plastic wrap; chill for 1 hour.

2. Heat oven to 425°. Transfer dough to a floured work surface. Roll dough into a 13" circle; transfer to an 11" fluted tart pan with a removable bottom, pressing into bottom and sides. Trim excess dough; chill for 30 minutes. Prick bottom of dough with a fork; cover bottom with a sheet of parchment paper; fill with dried beans. Bake until crust is set, about 20 minutes. Remove paper and beans; bake until crust is light brown, about 15 minutes. Let cool.

3. Meanwhile, make filling: Cook bacon in a 4-qt. saucepan over medium heat until crisp, 7–8 minutes. Using a slotted spoon, transfer bacon to a plate. Discard bacon fat; add butter. Add onions and season with salt; reduce heat to low, cover, and cook, stirring occasionally, until soft, about 10 minutes. Uncover; cook until lightly browned, 10 minutes. Let cool.

4. Whisk milk, cream, and eggs in a bowl; add reserved bacon and onions along with cheese. Season with salt, pepper, and nutmeg. Pour filling into tart; place on a baking sheet. Place tart in oven and reduce heat to 400°. Bake until filling is golden brown and set, 45–50 minutes. Transfer tart to a wire rack to let cool completely before slicing and serving.