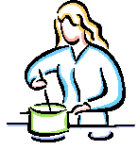 Rosti

Make a crisp rosti in the afternoon and reheat it (use the same frying pan it was made in) before serving. From: Xanthe Clay, Telegraph Serves 6

1¾lb/750g potatoes, peeled and cut in half
6-8 parsley stalks
5 peppercorns
2 shallots or onions, peeled and cut in half
2 tbsp sunflower oil
1oz/30g butter
Put the potatoes, parsley stalks, peppercorns, shallots and salt into a pan of water and boil the potatoes for 5-8 minutes to parboil them. Drain well and discard everything except the potatoes. Leave the potatoes to cool for 1-2 hours, then coarsely grate them into a bowl. Dry with a towel. Season the potatoes with salt and pepper.
Heat the sunflower oil in a large non-stick frying pan and add the butter. When it is very hot, press the potato mix into the pan to form a round flat "cake" and cook for about 5-8 minutes or until it is golden brown and crusty. Turn the rosti by inverting the pan on to a round plate, then sliding the rosti back into the pan.
Cook on the other side, then cool on a plate.
Keep at room temperature until it's time to reheat it in the pan.
Crispy Bacon Rosti with Soft Poached Eggs
From Waitrose
Serves: 2

225g floury potato, such as King Edward
4 rashers dry-cured smoked streaky bacon, finely chopped
1tsp cornflour
2tbsp snipped fresh chives
1tbsp olive oil
1tsp white wine vinegar
2 large eggs
2tbsp Maille Hollandaise Sauce

Coarsely grate the potato and place in a sieve. Sprinkle with a little salt, then press down lightly with the back of a spoon to remove any excess liquid.

Place the potato in a large bowl and stir in the bacon, cornflour and chives.

Heat the oil in a large, non-stick frying pan. Add the potato mixture, spreading it out evenly in the pan. Press down with a spatula to form a thin cake. Cook over a medium heat for 4-5 minutes, until crisp and golden, then carefully turn, using an upturned plate to help you, and cook the other side.

Meanwhile, boil a small pan of water and add the vinegar. Crack in the eggs and cook very gently until the whites are cooked through. Remove with a slotted spoon and drain on kitchen paper.

Cut the potato cake into four quarters and stack two on each serving plate. Top with a spoonful of hollandaise sauce and sit an egg on top. Sprinkle over the chives and serve immediately, garnished with a few leaves of flat-leaf parsley.
Cook's tips
For a Mediterranean twist, replace the bacon with 50g Spanish Chorizo, roughly chopped.
Rösti (Swiss Hash Browns)
In the dish's native Switzerland, recipes include bacon, rosemary, caraway seeds, eggs, pasta, cheese, even coffee. From: http://www.saveur.com/article/Recipes/Rosti SERVES 4
2¼ lb. russet potatoes (about 3 large)
2 tbsp. lard or unsalted butter
2 tbsp. canola oil
1 tbsp. kosher salt, plus more to taste
Place potatoes in a large saucepan, cover with cold water, and bring to a boil over medium-high heat; cook until tender, about 30 minutes. Drain potatoes, and set aside to cool for about 10 minutes. Peel potatoes, then refrigerate until chilled, at least 1 hour. Grate potatoes using the large holes on a cheese grater; set aside.
Heat lard and oil in an 8" nonstick skillet over medium-low heat. When lard has melted, add potatoes, sprinkle with salt, and mix well, coating potatoes with fat. Using a metal spatula, gently press potatoes, molding them to fit the skillet. Cook, shaking skillet occasionally, until edges are golden brown, about 20 minutes.
Cover skillet with a large inverted plate, invert the rösti over onto plate, then slide it back into the skillet, cooked side up; cook until golden brown on the bottom, about 20 minutes. Transfer to a cutting board, sprinkle with salt, and cut into wedges to serve.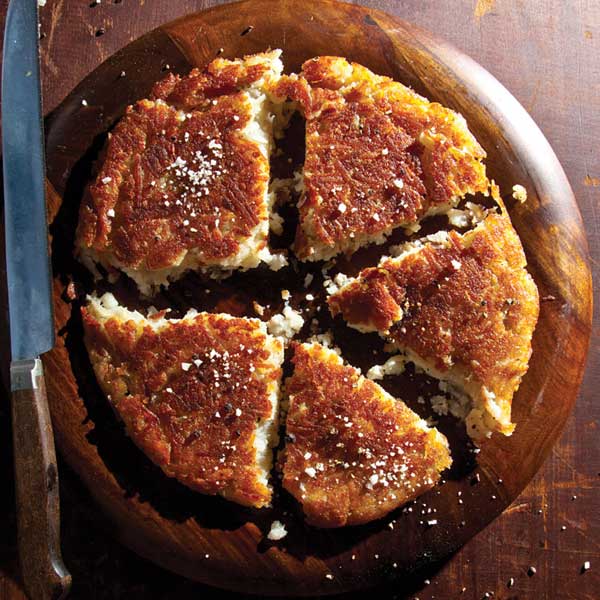 Salt-and-Vinegar Rösti
We transformed the regular hands-on skillet method to a very hands-off oven technique.
From: bonappetit Serves 12

4 pounds russet potatoes, peeled
1 tablespoon kosher salt, plus more
2 tablespoons olive oil, plus more
2 onions, thinly sliced
1 tablespoon distilled white vinegar
Freshly ground black pepper
Flaky sea salt
Parboil potatoes in a large pot of boiling salted water just until a paring knife slides into the center with some resistance, 15–20 minutes. Drain; transfer to a rimmed baking sheet and chill uncovered until cold, at least 30 minutes.
Place racks in highest and lowest positions in oven; preheat to 425. Line two 8" cake pans with parchment; brush with 2 Tbsp. oil. Toss onions, vinegar, and 1 Tbsp. kosher salt in a large bowl. Let sit until onions are softened, 5–10 minutes (massage gently to speed up process).
Meanwhile, grate parboiled potatoes on a box grater or in a food processor, or cut using a julienne slicer. Place prepared pans on lower rack and heat 5 minutes.
Add potatoes to onion mixture and toss to combine; season with kosher salt and pepper. Divide potato mixture between hot pans and press down as firmly as possible to compact (a thin flexible spatula works well). Place on lower rack and bake until potatoes are very brown around the edges, 45–60 minutes. Remove Rösti from oven; let cool slightly.
Heat broiler. Broil Rösti on upper rack until tops are golden brown all over. Cut around sides with a small knife or offset spatula to loosen and invert Rösti onto a wire rack set inside a rimmed baking sheet. Carefully remove parchment paper (if potatoes stick, let cool slightly). Brush top of Rösti with more oil, sprinkle with sea salt, and broil until second side is deep golden brown.
Do Ahead: Potatoes can be parboiled 1 day ahead; once cold, cover. Rösti can be made 3 hours ahead; store uncovered at room temperature (or keep warm in a 250 oven up to 1 hour). Reheat in a 300 oven for 10 minutes before serving.