Munich to Cardiff
One of my first trips in the car was a 3450 km round trip from Munich, Germany to the UK. The car was great fun on the back country roads and on the autobahn (if a little deafening at speed).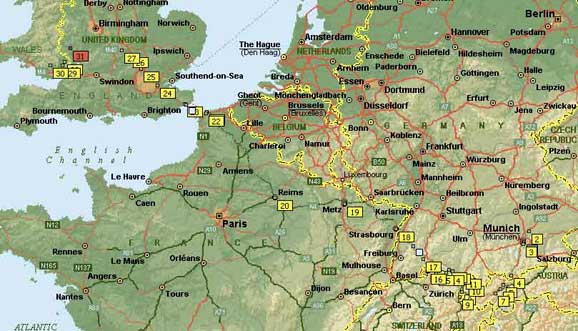 1. Munich
Click here for more info about Munich, or here for the Tourist Info website.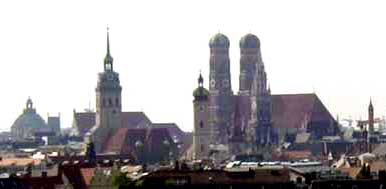 Rooftop view of the centre of Munich
2. Franz Josef Strauss Airport
3. Munich Thalkirchen (Munich Climbing Centre)
4. Garmisch-Partenkirchen (highest mountain in Germany)
5. Nassereith (Austria)
6. Imst
7. Zams
8. Feldkirch
Feldkirch is the Austrian gateway to Liechtenstein.
It is a very pretty town, with lots of medieval buildings.
You can take a virtual tour here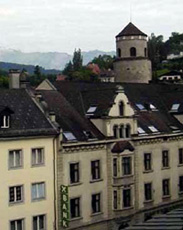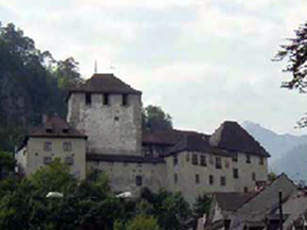 9.Vaduz (Liechtenstein)
Vaduz, The Capital of Liechtenstein.
Click here for the Lonely Planet Guide to Liechtenstein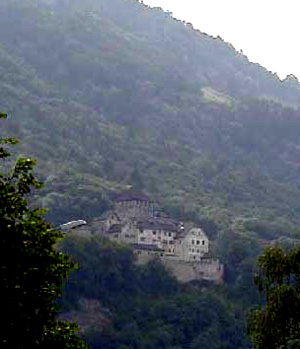 10. Dornbirn (Austria)

11. Lindau (Lake Constance - Germany)
Lindau sits on the German shore of Lake Constance (Der Bodensee), just across from the Austrian border and looking out towards Switzerland.
For more info about the Lindau and the Bodensee area, click here


Wasserburg
Wasserburg nestles just around the corner from Lindau.
The "onion dome" of the church is typical of South Germany churches.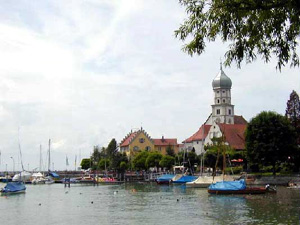 12. Immenstaad
Immenstaad was my introduction to living in Germany.
If you ever visit Lake Constance, be sure to pop into Gasthof Schiff in Immenstaad and say hello to Bob & Ilsa.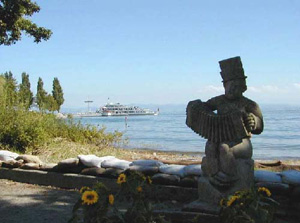 13. Meersburg
Meersburg lies towards the bottom of Lake Constance. A car & passenger ferry connects Meersburg to the City Of Constance, and provides easy access into Switzerland.

14. Kreutzlingen (Swiss border town)

15. Stein am Rhein

Stein am Rhein is unbelievable pretty, and is only spoilt by the coachloads of tourists that arrive in summer.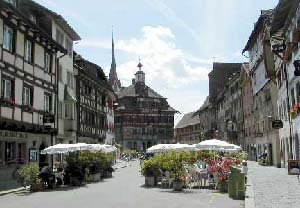 16. Schaffhausen


At 150 metres wide and 23 metres high, and an average 700 cubic metres of water per second, the Rhine Falls near Schaffhausen areEurope's biggest.
Click here to find out more about Schaffhausen.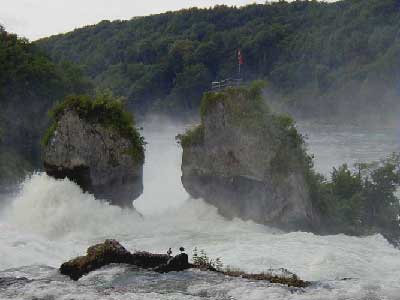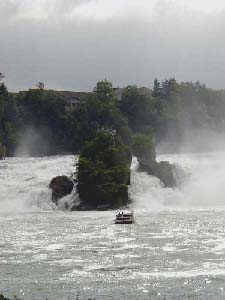 17. Donaueshingen (Germany)
Donaueshingen is the official source of the river Danube.
The source can be seen in a small pool in the grounds of the Fuerstenburg residence (shown above).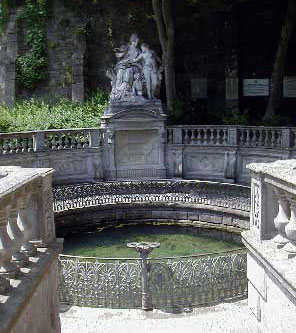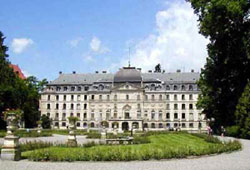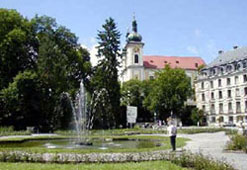 Freiburg
Freiburg is a very attractive City and provides great access to the superb countryside of the Black Forest
.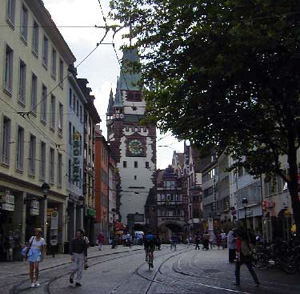 18. Strasbourg (France)
19. Metz
20. Reims (Champagneland :))))
21. Calais
22. Chunnel
Crossing from France to the UK using the Chunnel was by far the easiest and quickest route (but not the cheapest!)
Click here for the Euro Tunnel website.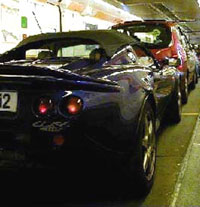 23. Folkestone (UK)
24. Dartford (Tunnel with no English currency for toll !!!!)
25. St. Albans
26. Milton Keynes

27. Silverstone
I didn't take nearly enough pictures at MGCC Silverstone day, but here are a couple (and yes the little blue MGA was overtaking all the Fs :o)
Click here for the official MGCC Silverstone pictures.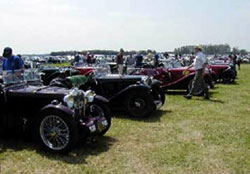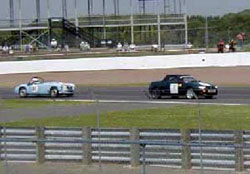 28. Raglan (Wales)
29. Usk
30. Trelewis, Welsh International Climbing Centre
I even managed to overcome fears of vertigo and climb 40ft up the climbing wall

31. Hereford (ENGLAND!)
SUMMARY (as calculated by AutoRoute)
Total distance: 1886.2 kilometres - 1172 miles
Driving time: 21 hours, 44 minutes