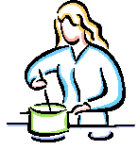 Maultaschen
A sort of giant ravioli, allegedly created by Swabian Monks to hide meat from the Good Lord during Lent. From "Germany - a culinary tour", by Wolfgang W Reichert. Serves 4

Dough:
1lb flour
4 Eggs
pinch of salt
Filling: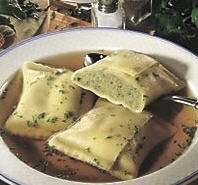 12oz mix of veal, beef and smoked bacon in equal parts, blended (available from German butchers as "Brat")
1/2lb frozen spinach, creamed (controversial & optional)
1 onion, finely chopped
1/2 stalk of leek, finely chopped
parsley
4 stale rolls
3 eggs
salt, nutmeg, pepper, to taste
Puree meat, saute onion, leek & parsle. Soak rolls (btreak up into lumps), and squeeze out by hand. Combine all filling ingredients & mix well.
Heap flour on a bread board, add eggs and salt into a well in the middle. Knead well to obtain a smooth tough dough & seperate into 6 equal parts. Roll out the dough until paper thin into 7" wide rectangle(s).

Place the filling down the centre of the dough, fold the dough over the filling and seal into a pockets using water or egg white. Press the edges together with a fork. Cut into 3" wide parts. Boil in bouillon for 10-15 mins.
Serve hot in the broth; or next day cut into slices and fried with eggs & served with potato salad