THE CRUISE PHASE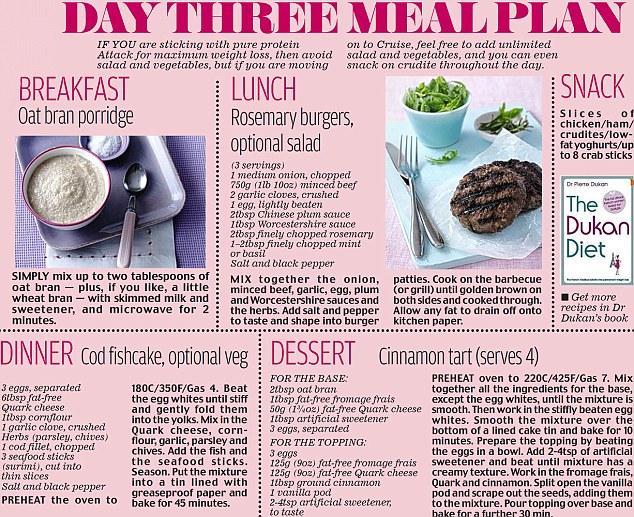 This next phase consists of two alternating diets. This is the workhorse stage where you alternate pure protein days with days when you include a delicious array of unlimited vegetables to your wide selection of meat, fish and no-fat dairy products. Expect to lose around 2lb a week.
The most efficient way to work this stage is to spend one day on the pure protein 'attack' diet (above), and the next on a protein and vegetable diet, switching between the two, one day at a time, until you reach your chosen weight.
However, some people prefer to work to a rhythm of five days of protein followed by five of protein plus vegetables, or, if you have only a little weight to lose, try two days of pure protein (say Mondays and Thursdays) with every other day protein combined with vegetables.
The beauty of the Cruise phase is its flexibility. You can juggle your pure protein (PP) and protein and vegetable (PV) days to fit your schedule. You may like to try five days PP, followed by five PV; or, if you only have a little weight to lose, try two days PP (say Mondays and Thursdays) a week, and the rest PV. Others find PP easier to stick to during the week, but prefer the relative normality of PV at weekends.
Now you can introduce the 28 Dukan Approved Vegetables. In principle, you can eat as many of these vegetables as you like, whenever you like, but if you want speedy weight loss, it's best not to eat vegetables with complete abandon - better to eat until you no longer feel hungry.
Don't worry if your weight loss plateaus occasionally on vegetable days. This is merely water levels resetting themselves. Stick with it. The weight will fall off.
CRUISE RULES:
1-5 pure protein days (with no-fat dairy products just like the Attack phase) interspersed with 1-5 days when quantities of salad and vegetables can be eaten, too.

2 tablespoons of oat bran per day.

Take a 30-minute brisk walk daily.

Drink 1.5 litres of water each day.

You should be aware that the incredible weight loss you enjoyed in the Attack phase will very likely plateau a little when you introduce salad and vegetables back into your diet, but don't panic!

The protein-only diet has a powerful water-loss effect, because a diet rich in meat and dairy products raises the levels of uric acid and urea in the blood.

These are toxic by-products of protein breakdown and metabolism, and the body tries to eliminate these by sucking water out of the tissues and pumping it into the kidneys and urinary tract to help it flush out.

So some of the weight loss you notice on the scales will be water that has been stagnating in your tissues for a long time. But when you start eating vegetables again, your body will naturally start to retain a little water once more.

The secret is to be patient — and to keep the faith! You're definitely heading in the right direction, and you'll be losing fat, too.

As soon as you switch to a pure protein day, the water expulsion will return and you'll be able to see quite clearly on the scales exactly how much weight you really are losing.
Example Attack Phase Menu
Monday,
Day 1

Tuesday,
Day 2

Wednesday,
Day 3

Breakfast

Oat bran porridge (see above)

Coffee or tea (with skimmed milk and sweetener if desired)

225g non-fat cottage cheese and one slice turkey, chicken or low-fat ham

Coffee or tea (with skimmed milk and sweetener if desired)

2 small non-fat yoghurts and one slice turkey, chicken or low-fat ham

snack: one small non-fat yogurt

Lunch

Rosemary burgers (see above)

Savoury Pancake (see attack)

Tea

Ham & Chicken crudités

Crab sticks

Dinner

Cod Fishcake (see above) or Chicken with Mushrooms

Cinnamon Tart (see above)

Baked Fish with Herbs (see above) or Hungarian Minced Steak

Prawns sautéed in herbs and Tandoori chicken escalope's

Oatbran pancake

Thursday,
Day 4

Friday,
Day 5

Saturday,
Day 6

Breakfast

Coffee or tea (with skimmed milk and sweetener if desired

one boiled egg.

snack: 115g of non-fat cottage cheese.

Oat bran porridge (see above)

Coffee or tea (with skimmed milk and sweetener if desired)

225g non-fat cottage cheese and one slice turkey, chicken or low-fat ham

Lunch

Chicken leg

Poached salmon fillets or Lemon Chicken

Tea

one non-fat yoghurt and a slice of turkey

Dinner

Moules Mariniere and boiled beef or Prawn Soup

Oatbran pancake

Sunday,
Day 7

Extras

Breakfast

Coffee or tea (with skimmed milk and sweetener if desired)

2 small non-fat yoghurts and one slice turkey, chicken or low-fat ham

snack: one small non-fat yogurt

Coffee or tea (with skimmed milk and sweetener if desired

one boiled egg

snack: 115g of non-fat cottage cheese.

Lunch

Stuffed mushrooms café creme

Tea

Oatbran pancake (made with 2 tablespoons oatbran) with a slice of ham or smoked salmon

Pepper steak or Mexican Steak

Dinner